FASTING THE MIND
Stop planning, stop comparing, stop competing, stop thinking, and just breathe deeply for a minute . . . Our undivided attention is something we are rarely able to give for reasons ranging from digital overload to the cultural conditioning of equating busyness with purpose. Just as you might choose a fast from eating to detoxify the body, the best way to overcome this modern mental overload is to periodically fast the mind.
Drawing on the spiritual philosophies and meditative practices of classical yoga, Hinduism, Buddhism, and Taoism, Jason Gregory explains how fasting the mind directly impacts your habits and way of being in the world to create peace and calmness in your life as well as allow you to build a firm psychological defense against the increasing bombardment of distractions in our world. Applying psychology and cognitive science to samsara–the cycle of suffering created by our attachment to the impermanent–he explains how overreliance on the rational mind causes imbalances in the autonomic nervous system and suppresses our natural spontaneity, feelings, and intuition. When we are unable to relax the mind deeply, we enter a destabilizing state of stress and anxiety and are unable to liberate the true Self from the impermanence and limitations of the material world. Sharing Zen, Taoist, and Vedic practices to help you empty your mind and gradually restore your natural rhythms, the author shows how to give the mind time to truly relax from stimulation so it can repair itself and come back into equilibrium. He details simple meditation practices that are easy to implement in daily life, such as open-awareness meditation and contemplation of Zen koans, as well as the advanced techniques of Vipassana, a Theravadic Buddhist discipline centered on seclusion from all worldly stimuli. He also offers methods for digital detox and ensuring a good night's sleep, a major support for healing cognitive impairment and restoring a state of equanimity.
By fasting the mind we strip away the distractions and stresses of modern life and return to our original nature as it exists deep within. We become more consciously awake in every moment, allowing us to feel the real beauty of the world and, in turn, to live life more fully, authentically, and peacefully.
Praise for Fasting the Mind
"In Fasting the Mind, Jason Gregory not only explores the threat of cosmopolitan priorities to our physical and mental functionality, but more importantly, he leverages ancient wisdom to create an actionable plan, allowing the reader to embrace tranquility."
David Perlmutter, MD, New York Times Best-selling author of Grain Brain and Brain Maker
"Fasting the Mind is a highly intelligent and profound work sorely needed in our modern, overstimulated world. Jason Gregory blends modern science and ancient spiritual wisdom from multiple traditions to show us why mental overstimulation is so harmful. He then offers us a pathway to healing the mind, achieving emotional balance and moving deeper into true self-awareness. This book is both enlightening and transformative on multiple levels… a must-read for all seekers."
Brad Willis, aka Bhava Ram, former NBC News Foreign Correspondent and author of Warrior Pose and The 8 Limbs of Yoga
"Jason Gregory is a weirdo – and I mean that in the best sense – analogous to the way hippies once called themselves "freaks"; that is, as someone who isn't addicted to the illusion that keeping up with the Jones will somehow get you anywhere worth going.  He advises us to slow down, breathe, and embrace the silence at our core.  Gregory is the White Rabbit of Through the Looking Glass who once advised Alice, "Don't just do something, stand there."
Dana Sawyer, Professor of Religion and Philosophy at the Maine College of Art, author of Aldous Huxley: A Biography and Huston Smith: Wisdomkeeper: Living the World's Religions: The Authorized Biography of a 21st Century Spiritual Giant
"Every year we have new fitness crazes and ways to make the body more healthy and strong. Mental health already sounds like something that's for crazy people. Few people talk about or have resources to support their mental wellbeing. What Jason has done with this book is a game changer. He uses ancient wisdom with a Western delivery to get this precious information to the masses. Who doesn't want a stronger more settled mind? No matter how enlightened you are or aren't, this book will make you stop and think in new ways."
Jason Nemer, co-founder of AcroYoga
"I'll bet that you work really hard to live a happy, authentic, and conscious life. Maybe you do cleanses to detox your body, decluttering to simplify your life, or do things like yoga to tune up your energy? But, what about your mind? If you truly want to be free, you need to fast your mind. Fasting the mind is the missing link for embodying pure happiness and eliminating your stress and anxiety. In our modern lives, we still have so much work to do to find total liberation as we navigate the sea of the culture (and cult) of busyness. It is filled with various digital distractions, promotion of materialism, and the pressure to be productive and achieve success. If you want to be a true, spiritual rebel, you need to let go of these things, along with your cognitive noise. This book is wise, deep, thorough, and well-researched, written by a very smart, down-to-earth person with sincere, healing intentions. This book will not only make you think, but it will assist you in implementing the effective strategies for cleansing and thus, mastering your mind. How you use your mind is reflective of how you spend your precious, brief time on the planet. Are you using it wisely? Are you really fully present to all the beauty, love, and wonders of your life? Please, put down your smartphone and not only read this book, but use it! Get onto your personal path to inner peace, optimal health, and enlightenment, a return to your true nature, as you clear away all the interference."
Lisa M. Selow, author of A Rebel Chick Mystic's Guide: Healing Your Spirit With Positive Rebellion 
"I've been reading Jason Gregory's work since the beginning. Each book compounds upon the other on a beautiful journey towards what is most relevant to the human condition here and now. His use of ancient terminology with modern explanation is quite moving. I, myself, find that moving the body and focusing the mind are prerequisites to eventually combining the two in an effortless expression of our uniqueness. That is what I feel to be medicine for the planet and people and Jason illustrates the intangible steps with tangible direction on this path of self-discovery. Thanks again Jason. You've made enough sense that I'm compelled to put this grand method into action."
Ben Stewart, documentary filmmaker of Kymatica and Ungrip
"Fasting the Mind discusses with depth and clarity one of the most important aspects of internal cultivation. In my three decades plus of continued practice I have studied many methods and techniques; ultimately though, when it comes down to it, the core of all of these methods is that the mind must be disconnected from distracting stimuli in order for change to take place. In this book Jason discusses with skill and accuracy why this is vital to our practice as well as placing this ancient concept into a modern context. Vital reading for meditation practitioners."
Damo Mitchell, author of White Moon on the Mountain Peak and Daoist Nei Gong
"Jason Gregory is one of the most sensible persons I know. In Fasting the Mind he guides the reader back to their authentic self – stripped of our dopey diversions – to find the cure that lies within the body's wisdom. Stop distracting yourself, take time to breathe, and let this fascinating book soak in – your nervous system will thank you for it. Fasting the Mind is a treasure of a book in a world that so badly needs it."
Kingsley L. Dennis, PhD, author of The Phoenix Generation: A New Era of Connection, Compassion and Consciousness
"With a mixture of modern day science and astute scholarship gleaned from the ancient texts of wisdom cultures, Jason Gregory's Fasting the Mind contributes to the understanding of how the mind can be transformed from self-centeredness into an inseparable union with all that is. Mind fasting is the willingness to abide with what is true instead of the false perceptions from our personal narrative, and though mind fasting is not easy, it is accessible. The author reveals that the only obstruction is our conditioned need to see the world in prescribed ways. He reveals how straightforward and natural the mind becomes when consciousness lives with just what is. For the sake of all beings, we need to listen, ingest, and live this reality."
Rodney Smith, author of Touching the Infinite: A New Perspective on the Four Foundations of Mindfulness and Awakening: A paradigm Shift of the Heart
"I love "mind fasting" because it gives us a fresh take on the word meditation (yawn) and re-enlivens the concept of entering silence to rediscover our true, harmonious nature. The connection to healing, then, is so simple: allow ourselves to resonate with the universe. Especially today, we need this reminder: dive into boredom! dump the need for speed! delete distractions! Jason Gregory brings his wealth of historical and cross-cultural knowledge to this practice, making it interesting, simple, and doable."
Penney Peirce, author of Leap of Perception and Frequency
"Jason Gregory goes straight to the point. In a language that is both thoughtful and uncompromising, he brings to life in modern terms the message of sages who sole purpose is to end our misery. Fasting the Mind is about healing the illusion of separation, of alienation that leaves so many people bereft and wanting. The cure is simple, but our attachment to intoxication, strong. That is why we need the methods that Jason expounds from the many sources of wisdom through the ages. Slowing down, pulling back, checking indulgence, and paying attention not only allow us to smell the roses and appreciate the beauty and magic of life. We discover that such a path is truly transformative and that we are a part of and always have been one with that beauty and magic. Such a message is the sole purpose for Jason and this most recent offering."
Robert Sachs, author of Becoming Buddha and The Ecology of Oneness
"Fasting the Mind in a word incredible. It is the perfect book for calming the mind and the thoughts that we generate to create mental clarity and peace with a stress free life as Jason offers wonderful techniques on achieving the value of a free mind."
Steven L. Hairfield, PhD, author of Know What Tomorrow Brings
"Fasting the Mind is a concise, ambitious, and fascinating exploration of all things awakening. From social stress to our nervous system, the Vedas to Zen, Jason Gregory guides readers in a very accessible way to the truth of their Being. Check it out and see for yourself."
Chris Grosso, author of Indie Spiritualist and Everything Mind
Published by Inner Traditions, June 13, 2017
Buy From: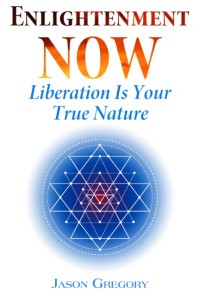 ENLIGHTENMENT NOW
In this philosophical, psychological, and spiritual exploration of enlightenment, Jason Gregory addresses how to access the original spontaneous awareness we all came into this world with. He exposes the illusion that we must strive to reach enlightenment, uncovering how our yearning for future accomplishments, attachment to the past, and reliance on authority outside the self are social constructs that distract us from the reality of the now. The author explains how our original enlightened nature has been obscured by social, cultural, religious, and egotistical conditioning of the mind caught in time.
Building on knowledge from spiritual traditions including Buddhism, Hinduism, and Taoism, Gregory expresses the timeless and ever-present nature of enlightenment. He illustrates how rigid practices and initiations can become a form of spiritual postponement, continually putting off our enlightenment because we feel we are doing something good and noble. To chase enlightenment through spiritual practice is to assume it is a quality bound to time. The author helps us see that we are already what we are seeking–once we understand that existing in this world is itself a miracle beyond words, then the magic and beauty of our world will unfold. In the same way we remember someone's name without thinking about it, we also remember that we are enlightened when we stop searching for the experience.
Emerging from the Middle Way of the Buddha, Lao-tzu's Way of the Tao, Yoga, the Great Work of Gnosticism, the Hermetic Art of Alchemy, and quantum physics, Gregory presents a way to the state of consciousness–enlightenment, nirvana, or samadhi–in which eternity and time are one. He shows us how to counteract the negative impact of social and cultural conditioning on our psyche through meditation and reframing our understanding of time. The author explains how meditation in its truest form takes our awareness of nowness from theory to practice. Guiding us away from a time-bound understanding of enlightenment, Gregory shows us how to find ourselves in the stillness of now where the peace you are is the peace you give to the world.
Praise for Enlightenment Now
"In Enlightenment Now, Jason Gregory takes to heart the famous slogan of 12th century Tantric Buddhist master, Chekawa Yeshe Dorje when he writes "Liberate the Antidote." The message is that in the end, even our zealous, pious practice of spiritual disciplines need to be left at the door to step into the timeless bliss of full awakening, of Enlightenment. Though such practices are considered by aspirants to be more effective and/or valuable than the awakening that life itself offers us in each moment, few are willing to break the shackles of display of sacred appearance; to live in each moment, awake to a sneeze, the movement of waves, the giggle of a baby, free of any religious mantel.  Read and savor Enlightenment Now as a celebration of our true and timeless nature."
Robert Sachs, author of Becoming Buddha and The Ecology of Oneness
"Enlightenment Now beautifully shares where the idea of enlightenment comes from 'from the inside out' and shares that pathless path magnificently. Jason Gregory describes pure awareness as the true form of consciousness itself free from the veil of personality and our limitations of time."
Steven L. Hairfield, Ph.D., author of A Metaphysical Interpretation of the Bible
"Jason Gregory takes us on a journey from Spirit deep into the dark world of polarized perception, showing how suffering and veiled consciousness developed. Then he leads us right back out again. We end up returning to where we've always been, and we get the cosmic joke! As usual, he integrates many fine points into an interesting and comprehensive narrative."
Penney Peirce, author of Leap of Perception and Frequency
"Jason Gregory has done it again – with a deep understanding of spiritual, psychological, and linguistic traditions he reveals how we are hypnotized into a disconnected worldview. This latest book strips away the veneer from our fast-food culture of consumerist enlightenment and points toward the need for genuine individual self-work. Gregory shines clarity onto the false joyride of our lives and makes us see clearly that the journey itself is the destination. Enlightenment Now is the ideal antidote to the spiritual sloth endemic in our 'get quick' cultures. Highly recommended!"
Kingsley L. Dennis, author of The Phoenix Generation and New Consciousness for a New World
"Jason Gregory's book, Enlightenment Now, is an erudite, and scholarly overview of our spiritual struggle to arrive at a place where, ironically, we already are. Quoting amply from many literary references, this multi-layered book documents man's historic spiritual quest for the very core of Truth. By fully addressing the paradox of awakening, the Author points out that enlightenment, itself, is nothing other than the discovery of our very own true nature. If you're willing to take the time to carefully read this intelligent and in-depth expose', there are many hidden treasures to be mined here. Recommended."
Chuck Hillig, author of Enlightenment for Beginners, The Way IT Is, Seeds for the Soul, Looking for God (Seeing the Whole in One), and The Magic King
"In Enlightenment Now, Jason Gregory has provided a comprehensive overview of man's search for enlightenment. His research draws upon a wide range of resources, and walks the reader through perspectives of modern philosophy and culture, all the way back to the ancients. One nice feature is that the book is rich with wisdom quotes from sages. Along the way, Jason includes his own commentary and suggestions for the contemporary seeker as to what works, what doesn't, and why. It is a book many readers will benefit from and enjoy."
Peter Dziuban, author of Consciousness Is All and Simple Notice
"Jason Gregory has done a fantastic job of cutting through to the heart of enlightenment and the spiritual teachings of the ancient wisdom traditions. The illusory nature of the spiritual journey is explored with a profound clarity that will certainly help to guide those interested in meditation and personal liberation."
Damo Mitchell, author of Daoist Nei Gong and White Moon on the Mountain Peak
"Jason Gregory, in his latest book, Enlightenment Now, offers us a philosopher's view regarding the endless paradoxes we encounter on our way to enlightenment. Jason's writing is full of stories, antidotes and metaphors that move us beyond our culture inculcations, beyond the pitfalls that befall us as we try to attain enlightenment, which we must go beyond if we are to realize this timeless realization. At a time in history where everywhere we turn we are dazzled by the call of meditation and enlightenment—from the posters that are on every Laundromat window, to the equipoised person sitting on the new car who promises complete satisfaction of our desires with its purchase—Jason rightly points out that enlightenment is not something we can attain like a new car, for ultimately enlightenment is "no thing". Yet, it is a "no thing" that we can realize, that brings ultimate freedom. But here again there is paradox, for the freedom of enlightenment is not free; it entails discipline of body, mind and speech. It does free us from the jail of our conditioned habits and egocentric behaviors, but at the cost of realizing that every action we take is ultimately beyond our personal control, interdependent upon the movement of entire universe. As a philosopher, I revel in Jason's correction of our mistaken views regarding enlightenment."
Richard Miller, PhD., Developer of iRest Meditation, and author of Yoga Nidra: The Meditative Heart of Yoga
Published by Inner Traditions, October 13, 2016
Buy from :
THE SCIENCE AND PRACTICE OF HUMILITY
From Krishna and Lao-tzu to Buddha and Jesus, each enlightened master discovered how being receptive to all experience was the key to becoming one with the universe and its spontaneous patterns of order and chaos. Revealing humility as the purest expression of this receptivity, Jason Gregory integrates classic teachings of Hinduism, Buddhism, Taoism, and Hermeticism with principles from quantum physics to explain the science of humility as practiced by the ancient masters.
The author shows how, driven by fear, the human mind creates the ego. In its greedy and arrogant quest to protect the self and its desires, the ego forges the illusion of separation, weaving complex patterns of reality that shield us from our unity with all beings and result in attitudes of aggression, selfishness, and competition. He reveals how the iconic clash between this complex, aggressive "path of the warrior" and the simple "path of the sage" is reflected in the polarized state of the modern world. Yet this state also reflects the accelerating wave of conscious evolution we are now experiencing. The key to catching this evolutionary wave is humility: the reversal of complexity into simplicity, the ancient science of mental alchemy that represents the Great Work of Eternity.
Praise for The Science and Practice of Humility
"Humility may be one of the most misunderstood states of being, and one of the most powerful kinds of consciousness. This book penetrates through superficial concepts to give you a much deeper experience of this way of being in the world. I like how the book connects humility and truth, and that Jason Gregory gives us a thorough background in global teachings that support the development of the frequency of humility."
Penney Peirce, author of Leap of Perception and Frequency
 "A wide ranging comprehensive exploration of the human condition, drawing on history and the wisdom of many cultures. Jason Gregory helps us to see our shadow side, and then points our gaze toward the light, the evolution of consciousness, and the healing of life on earth."
Wes Nisker, author of The Essential Crazy Wisdom
 "With the clarity of an eagle soaring in the still peace of a clear blue sky, Jason Gregory offers us an important work in the development of a vision of unity and peace. The Science and Practice of Humility is a revelation, speaking to that inner knowing that has never been separate from who we are and have always been. Gregory's style is both intellectually stimulating and personally evocative. This book is a treasure to hold in two hands: to ponder, to enjoy, and to allow its alchemy to call upon that which is our best, and our salvation."
Robert Sachs, author of Becoming Buddha
 "A profound and important book. From his exploration of Hermetic principles and the true meaning of alchemy, to his deconstruction of false ideas of manifesting wishes, Jason Gregory makes a unique contribution to an evolving philosophy for the 21st century. This eminently readable and thought-provoking book renders a service to us all."
Graham Hancock, author of Supernatural: Meetings with the Ancient Teachers of Mankind
"Jason Gregory's richly woven treatise explores the evolution of perception and encourages the reader to go beyond intellectualizing and to enter a realm of sincere introspection toward a liberation of the self. This work is an exposition upon humanity's integral role in a grand planetary unfoldment and a blueprint for each individual's self-work. Gregory persuasively reminds us that evolution begins through one's own humility. The Science and Practice of Humility is a compelling read for all those seeking the threads of Truth behind the tapestry that is life."
Kingsley L. Dennis, Ph.D., author of New Consciousness for a New World and The Struggle for Your Mind
"Growing in the west is an ever-increasing interest in the eastern wisdom traditions. People are turning to practices such as Yoga, Taiji and meditation in order to access the teachings of sages adept in the arts of inner cultivation. Sadly it is often the case that modern people come up against a brick wall when the philosophy which underpins these arts appears so alien to them. I believe that it is the work of authors such as Jason Gregory who will help to bring down these walls by bringing ancient teachings into the contemporary western world. With an in depth discussion of the underlying ethos of the spiritual arts, The Science and Practice of Humility is a must read for any looking to understand the inner arts."
Damo Mitchell, author of Daoist Nei Gong and Heavenly Streams
"It comes as a synchronicity to write my first endorsement for a book, which happens to be for a dear friend. Jason has outdone himself. I measure the value of a book by its ability to put my life on pause while I fall into the rabbit hole of a single sentence. Without exaggeration, without a token endorsement, The Science and Practice of Humility has given two great moments of insight in the past month that have led to a major leap in maturity and stillness within me. Take time with each line in this book and you will understand what I mean."
Ben Stewart, documentary filmmaker of Kymatica and lead singer of Hierosonic
"When one truly realizes the warrior mind and how it operates then it ceases to be a part of you and peace will emerge through you. This is the true gift of The Science and Practice of Humility and Jason Gregory."
Steven L. Hairfield, Ph.D., author of The Twelve Sacred Principles of Karma
"This intriguing treatise offers deep and profound insights into the workings of the Universe and our place within it. Throughout The Science and Practice of Humility, Jason Gregory repeatedly reminds us that we are not separated from Universal essence and that it is through true humility, which includes acceptance of all aspects ourselves that we will come to experience ultimate freedom and peace."
Christine Page, MD, author of The Healing Power of the Sacred Woman
"Jason Gregory's book The Science and Practice of Humility presents the oriental wisdom to the modern world. It is a bridge between east and west. Jason Gregory shows the relevance of ancient wisdom in modern times. It is a profound book with a simple and clear explanation of some of the classic concepts of oriental philosophy."
Satish Kumar, former monk and long-term peace and environment activist, and author of The Buddha and the Terrorist
"The Science and Practice of Humility is a very thoughtful and wise treatise on the nature of reality, with inspiration for our spiritual unfoldment."
Corinne McLaughlin, co-author of The Practical Visionary and Spiritual Politics
Published by Inner Traditions, October 11, 2014
Buy from :