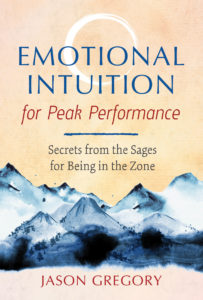 I'm excited to announce that I have a new book coming out June 2020 called Emotional Intuition for Peak Performance: Secrets from the Sages for Being in the Zone. My new book reveals a structured mind-body system for cultivating effortless action and intelligent spontaneity for peak performance by integrating the wisdom of the ancient sages with modern science. I explain how world-class artists and athletes reach peak performance–and how you, too, can harness this "lifestyle technology" to make your actions effortless, enjoy intelligent spontaneity, and reach optimal performance at a peak level. To read the synopsis of my book and pre-order on Amazon's lowest price guarantee please hit the following link:
BUY NOW https://amzn.to/2oZZdFm
GET READY TO GO TO THE NEXT LEVEL!
NOTE: This site directs people to Amazon and is an Amazon Associate member. As an Amazon Associate I earn from qualifying purchases. The pages on this website may contain affiliate links, which means I may receive a commission if you click a link and purchase something that I have recommended.